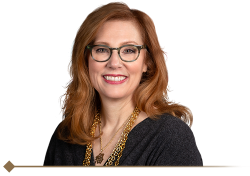 Lee Ann Howard is the founder of Howard & O'Brien Executive Search. She identifies candidates for senior general management positions, and specializes in functional assignments in human resources, finance, and sales and marketing. She has extensive expertise in finding successful CEO and other C-suite executives, in addition to key board of director members for both public and privately held companies.
Lee Ann's effectiveness lies in her ability to immerse herself in organizational culture and gain a thorough understanding of a client's needs and wants. With her willingness to do deep dives into the personalities of both a client company and a candidate, she optimizes the chances of a perfect fit.
Lee Ann draws on her experience in senior human resources positions with world-class companies, including Nestlé S.A., The DuPont Merck Pharmaceutical Company, Marion Merrell Dow, and Frito-Lay, Inc., to best serve her clients. She also worked with another executive search firm before striking out on her own to establish her own firm.
Lee Ann is active in both professional organizations and philanthropic endeavors. She is currently on the board of the American Heart Association and the Case Western Reserve University (CWRU) Family Business Advisory Committee. She has also served in leadership roles on the boards of the MetroHealth Foundation, the John Carroll University Entrepreneur Association, In Counsel with Women, The Gathering Place, Women's Community Foundation, and Business Volunteers Unlimited. She is a member of The 50 Club and founded the Conversations with the Board® series, which prepares executive women to serve on boards of directors. Lee Ann is a YWCA Women of Achievement and Crain's Women of Note honoree. She was an Ernst & Young Entrepreneur of the Year finalist and has received many awards and honors, including the National Association of Women Business Owners Top Ten Award in Northeast Ohio, the Athena Award, Women of Note, and the Medical Mutual Pillar Award for Community Service.
Lee Ann earned an MS from Baker University and a BA from Truman State University.